Thank you for visiting Desert Therapy and meeting our therapists. Please don't hesitate to call or contact our office if you have any questions.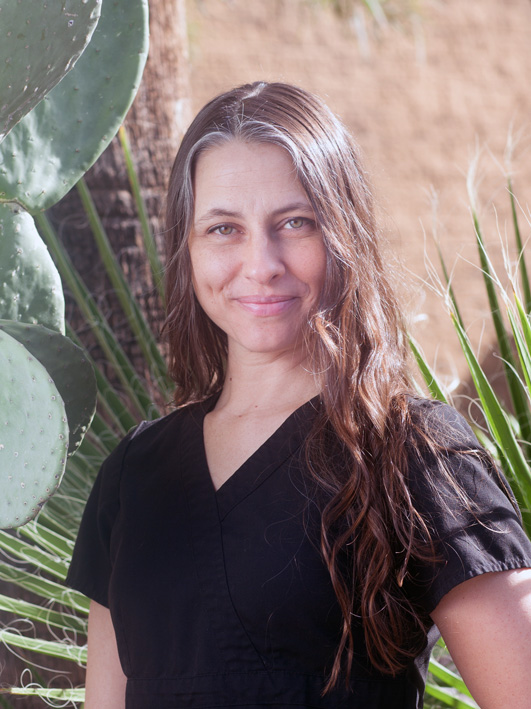 Joyce Elizabeth CCT
Joyce Elizabeth is a native Tucsonan and loving mother of two. She became invested in health and wellness at a young age. After working for seven years at the Co-op in Tucson where she gained valuable experience in the organic and natural foods culture, she became a medical assistant for naturopathic physician Dr. Judy Hiell. During her four years with Dr. Hiell, Joyce began training for her certification as a Colon Hydrotherapist. She received her certificate of training at the American Institute of Natural Health in Phoenix, AZ in 2007. In December 2009 Joyce opened Desert Therapy with the full support of her family.
Joyce has a warm and comforting nature that truly helps ease your experience causing it to be a better one. She is dedicated to helping others feel and be their best and loves doing so.
---
---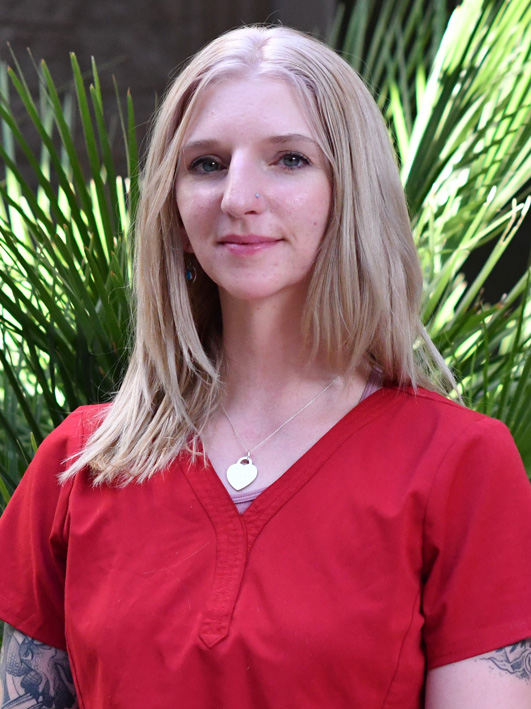 Cassandra Mertz
Desert Therapy is excited to announce the addition of Cassandra Mertz to the Desert Therapy team.
Cassandra is a devoted mother of two children and a passionate advocate for healthy lifestyles. Growing up as a military brat, she has traveled extensively throughout the US and to Japan, finally settling in the warm desert of Tucson. As a military widow, Cassandra understands how our family and life events have a great impact on our mentality and health despite the healthiest diets.
Cassandra began her journey to understand healing after struggling with hypothyroidism and Hashimoto's disease. Finding a naturopath who helped her identify her disease after years of misdiagnosis, Cassandra was finally able to heal with the correct treatments and begin to feel great. Cassandra is pursuing her studies in nutrition and is a Certified Health Coach and is extremely knowledgeable in the field of health and nutrition.
Colon hydro therapy was instrumental in helping Cassandra feel her best and help her digestion return to a healthy normal. After being a client of Desert Therapy for years, Cassandra was overjoyed to have the opportunity to study at the American Institute of Natural Health in Phoenix, followed by training under Joyce Elizabeth to become a certified colon hydro therapist and to work at Desert Therapy.
Cassandra is an enthusiastic and knowledgeable therapist who genuinely wants to help others find their own path toward true health and well-being. She is an open-minded and caring person who is eager to help and learn.
Please Call for an appointment (520) 429-9279
---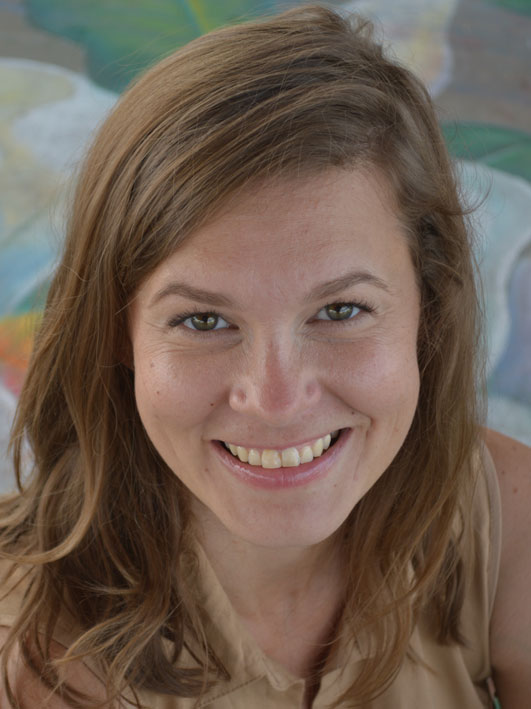 Courtney​ ​Bowman CCT
Courtney's​​ passion​ as​ ​ a​ ​ massage​ ​ therapist​ ​ is​ ​ to​ ​ help​ ​ clients​ ​ on​ ​ their​ ​ conscious​ ​ journeys​ ​ to​ ​ their highest​ ​ mind/body/spirit​ ​ potential.​ ​ Massage​ ​ therapy​ ​ is​ ​ a​ ​ type​ ​ of​ ​ bodywork​ ​ that​ ​ has​ ​ many therapeutic​ ​ benefits​ ​ other​ ​ than​ ​ just​ ​ relaxation.​ ​ Her​ ​ style​ ​ of​ ​ massage​ ​ therapy​ ​ focuses​ ​ on addressing​ ​ client's​ ​ specific​ ​ ailments​ ​ and​ ​ discomforts​ ​ on​ ​ an​ ​ individual​ ​ basis.​ ​ These​ ​ issues​ ​ may range​ ​ from​ ​ low​ ​ back​ ​ pain,​ ​ headaches,​ ​ neck​ ​ and​ ​ shoulder​ ​ tension,​ ​ limited​ ​ range​ ​ of​ ​ motion, carpal​ ​ tunnel​ ​ syndrome,​ ​ pain​ ​ from​ ​ a​ ​ car​ ​ accident,​ ​ or​ ​ elevated​ ​ stress​ ​ levels.​ ​ By​ ​ creating​ ​ a serene​ ​ and​ ​ safe​ ​ space,​ ​ she​ ​ and​ ​ her​ ​ clients​ ​ are​ ​ able​ ​ to​ ​ objectively​ ​ work​ ​ together​ ​ on​ ​ common goals​ ​ and​ ​ experience​ ​ healing​ ​ results.
Courtney's​ ​ clients​ ​ appreciate​ ​ her​ ​ genuine,​ ​ intuitive​ ​ and​ ​ knowledge-based​ ​ abilities.​ ​ She​ ​ received her​ ​ education​ ​ from​ ​ Wellspring​ ​ School​ ​ of​ ​ Allied​ ​ Health​ ​ in​ ​ Lawrence,​ ​ Kansas.​ ​ After​ ​ graduating with​ ​ over​ ​ 900​ ​ hours,​ ​ she​ ​ relocated​ ​ to​ ​ Arizona,​ ​ and​ ​ became​ ​ licensed​ ​ shortly​ ​ thereafter.​ ​ She​ ​ has worked​ ​ out​ ​ of​ ​ a​ ​ chiropractic​ ​ office​ ​ doing​ ​ massage​ ​ therapy​ ​ full-time​ ​ for​ ​ over​ ​ a​ ​ year​ ​ and​ ​ a​ ​ half. Her​ ​ belief​ ​ is​ ​ that​ ​ Massage​ ​ therapy​ ​ is​ ​ not​ ​ a​ ​ luxury,​ ​ rather​ ​ a​ ​ necessity​ ​ to​ ​ complete​ ​ wellness.
Please Call for an appointment (520) 429-9279
---